M. Kengyel/H.-J. Ahrens/C. Althammer..., Festschrift für Professor Nikolaos K. Klamaris, vol. 2, 2016
---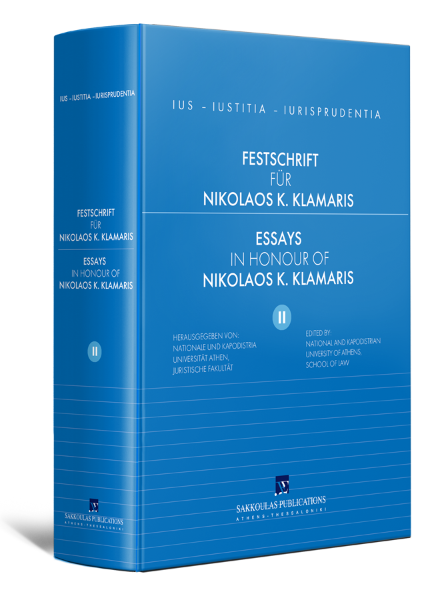 Mit der vorliegenden Festschrift möchten Freunde, Kollegen und Schüler von Herrn Professor Klamaris ihm die gebührende Ehre für seine Verdienste um die Prozessrechtswissenschaft erweisen.
Edition info
Title
Festschrift für Professor Nikolaos K. Klamaris
© 2016
Authors
Volume
vol. 2
ISBN
978-960-568-432-7
Pages
X + 1005
Price
In stock
Hans-Jürgen Ahrens, Die internationale Zuständigkeit bei Verletzung von Rechten des Geistigen Eigentums
Christoph Althammer, Altes und Neues zur Dogmatik zweitinstanzlicher Anschlussrechtsmittel im deutschen Verfahrensrecht
Neil Andrews, The Ultimate English Legal Oracle: Final appeals before the Supreme Court of the United Kingdom
Kostis Bakopoulos, Das griechische Arbeitsrecht im Wandel. Ein Bericht über die krisenbedingten Reformen am Beispiel des Kündigungsschutzes und der Tarifautonomie
Oskar J. Ballon, Die Auswirkungen der neuen österreichischen Verwaltungsgerichtsbarkeit auf das Zivilprozessrecht
Jürgen Basedow, Schiedsgerichte und EU-Recht: Über «indirekte» Vorlagen an den Europäischen Gerichtshof
Reinhard Bork, Vertrauensschutz im Europäischen Insolvenzrecht
Stavros Brekoulakis, Public Policy Rules in English Arbitration Law
Moritz Brinkmann/Monika Frevel, Andere Länder, andere (Restschuldbefreiungs-) Sitten – Die Flucht des Schuldners ins Ausland und ihre Konsequenzen für die Gläubiger
Alexander Bruns, Die Privatversicherung im Internationalen Privat- und Prozessrecht
Loïc Cadiet, Ces professeurs qui font les codes Illustration française: Gérard Cornu, Jean Foyer, Henri Motulsky. Nouvelle contribution à une histoire européenne de la procédure civile
Remo Caponi, European Minimum Standards for Courts. Independence, Specialization, Efficiency. A Glance from Italy
Dagmar Coester-Waltjen, Klägergerichtsstände im europäischen Zivilverfahrensrecht
Eugenia Dacoronia, Non-pecuniary damage in Greek law
Georgios Diamantopoulos, The varieties of estoppel
Rainer Frank, Familiäre Solidarität im deutschen Unterhalts- und Erbrecht
Hans Friedhelm Gaul, Die Rechtskraft als gemeinschaftsrechtlicher Rechtsgrundsatz und seine nationalen Ausformungen im griechisch-deutschen Vergleich
Peter Gilles, German System of Remedies against Judgements and its problems
Christos Vl. Gortsos, The power of the ECB to impose administrative penalties as a supervisory authority: an analysis of Article 18 of the SSM Regulation
Peter Gottwald, Kollektiver Rechtsschutz in Deutschland – nur KapMuG oder mehr?
Reinhard Greger, Justizanspruch und ADR
Fritjof Haft, Die Einführung der Rechtsinformatik-Ausbildung in das Jurastudium
Viktória Harsági, Quo vadis Collective Redress? – Hungarian Aspects
Wolfgang Hau, Die Zulässigkeit der Klage – eine Vergewisserung zu einem Grundbegriff des deutschen Verfahrensrechts
Burkhard Hess, The influence of the European Court of Human Rights on the European law of civil procedure
Nikolaos Μ. Katiforis, The implementation of Article 34(4) of Council Regulation (EC) No 44/2001 in irreconcilable judgments issued by courts of the same Member State (in the context of the judgment of the European Court of Justice of 26th September 2013, Salzgitter/Laminorul, C-157/2012)
Miklós Kengyel, Abschied von der Vollstreckbarerklärung in Ungarn
Christoph Α. Kern, Die Bekanntgabe von Urteilsentwürfen
Harald Koch, Die grenzüberschreitende Prozessführungsbefugnis
Bernhard König, Unbestimmte Geld-Vollstreckungstitel aus Österreich
Dieter Leipold, Der Zivilprozess zwischen Rechtsschutz und gütlicher Konfliktbeilegung
Walter F. Lindacher, Die internationale Gerichtspflichtigkeit von Personenhandelsgesellschaften und ihrer Gesellschafter
Karl-Georg Loritz, Das Verhältnis zwischen Gläubigeranfechtung, Insolvenzanfechtung und § 826 BGB
Kalliopi Makridou, The public policy defence in International Arbitration under Greek Law
Wolfgang Marotzke, Rechtliches Gehör und Justizgewährung für opponierende Gesellschafter im Fall einer GmbH-Auflösungsklage und im insolvenzrecht­lichen Eröffnungsverfahren
Elina N. Moustaira, The right to an effective enforcement and State responsibilities (including Transnational Aspects)
Joachim Münch, Aktuelles zum Recht der deutschen Schiedsgerichtsbarkeit - Die "Packungsbeilage" für Kompetenzklauseln
Christoph G. Paulus, Zum Redlichkeitserfordernis bei § 325 (d) ZPO
Eduard Picker, Systemdenken im Haftungsrecht
Andreas Piekenbrock, Die Handlungs- und Unterlassungsvollstreckung aus ver­fassungsrechtlicher Sicht
Angelika Pitsela, Zur Situation der strafrechtlichen Sanktionen und Maßnahmen gegenüber jungen und erwachsenen Menschen in Griechenland
Valentina Popova, Termination of the Proceedings and Decision by Default when the Defendant/Claimant does not act and fails to appear in the First Court Session according to the bulgarian Code of Civil Procedure
Hanns Prütting, Die Zukunft des Zivilprozesses
Walter H. Rechberger, Zur "Zirkulation" öffentlicher Urkunden in Europa
Herbert Roth, Beweislastprobleme um Verletzungen der Aufklärungspflicht bei Kapitalanlagen
Emmanuel Roucounas, State responsibility under International Law without adjudication
Achille Saletti, Les nova dans la procédure d'appel: L' évolution du procès civil italien
Eberhard Schilken, Rechtswegübergreifende Interventionswirkung einer Streitverkündung
Peter F. Schlosser, Die Tätigkeit des gerichtlichen Sachverständigen auf fremdem Territorium
Eike Schmidt, Fairness und Faktentreue im Zivilprozess
Rolf A. Schütze, Die Vorlage an den EuGH im Schiedsverfahren
Daphne-Ariane Simotta, Zur rügelosen Einlassung und zur Belehrungspflicht in Versicherungs-, Verbraucher- und Arbeitssachen (Art 26 EuGVVO)
Astrid Stadler, Revision und öffentliches Interesse
Jürgen Stamm, Zur fehlenden Revisibilität ausländischen Rechts
Marcel Storme, Dire le droit et faire justice
Michael Stürner, Die Bindungswirkung des Resultats der Verbraucherschlichtung.
Rolf Stürner, Anwaltliche Unabhängigkeit in der Gegenwart
Thomas Sutter-Somm/Cordula Lötscher, Die gerichtliche Fragepflicht im schweizerischen Zivilprozess
Spyros Tsantinis, Kassation, Rechtsstaat und Rechtsmittelstaat
Iakovos Venieris, Bewertung des griechischen Privatinsolvenzrechts bei Betrachtung seiner praktischen Anwendung
Max Vollkommer, "Von einem Wort lässt sich kein Jota rauben"? Zur stillschweigenden Berichtung von § 26 ZPO i.d.F. der Bekanntmachung vom 5.12.2005 (BGBl I, S. 3202)
Spyridon Vrellis, State Immunity in War Atrocities. The German Massacres in Greece - A Judiciary Saga in International Law
Andreas Wacke, Im Zweifel für den Beklagten – aber nur in pari causa
Wolf-Dietrich Walker, Ermittlungsbefugnisse des Gerichtsvollziehers im deutschen Zwangsvollstreckungsrecht
Teresa Arruda Alvim Wambier, Reasoning in judicial decisions according to the Bill for a new CPC
Karol Weitz, Verbesserung der Wirksamkeit von Ausschließlichen Gerichtsstandsvereinbarungen nach der Brussel IA - Verordnung
Harm Peter Westermann, Gesellschafter unter dem Schutzschirm der Gesellschaftsinsolvenz
Schriftenverzeichnis
Autorenverzeichnis
Content type
Categories
Read on Sakkoulas-Online.gr
Related editions

Ένα ερμηνευτικό εργαλείο του ΚΠολΔ με συστηματική παρουσίαση κατ' άρθρο νομολογίας

Απαραίτητο και πλήρες εργαλείο μελέτης και πράξης για τον ΚΟΔΚΔΛ, το γενικό μέρος και τη διαδικασία στα πρωτοβάθμια δικαστήρια κατά τον ΚΠολΔ

Σημαντικά δογματικά και πρακτικά ζητήματα από το πεδίο του αστικού δικονομικού δικαίου, της διαιτησίας και της διαμεσολάβησης

Σύγχρονη Νομοθεσία
, #5
Κυκλοφορεί η νέα έκδοση του Πολυκώδικα στη σειρά Σύγχρονη Νομοθεσία με όλες τις νομοθετικές μεταβολές μέχρι και τον Ν. 5046/2023. Σε μια περίοδο αλλεπάλληλων και ουσιαστικών...

Συλλογή μελετών, γνωμοδοτήσεων και παρατηρήσεων στο πεδίο του αστικού δικονομικού και διεθνούς δικονομικού δικαίου