S. Devetzi/A. Stergiou, Social security in times of corona, 2021
---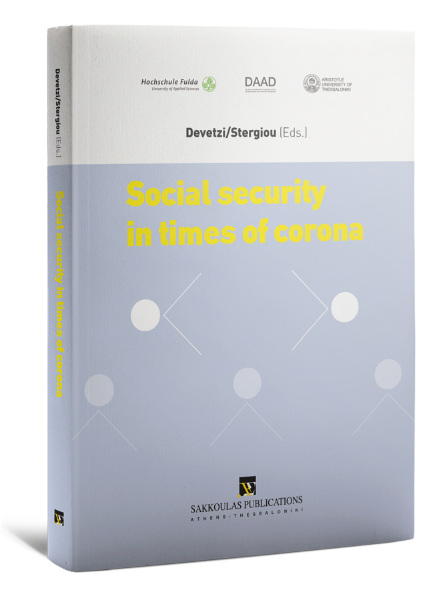 The global health crisis unleashed by the COVID-19 pandemic is possibly the most serious crisis since World War II. It has caused major and unprecedented challenges. The restrictive measures introduced during the pandemic in combination with the massive and unprecedented disruptions of work and the ensuing economic recession have had a strong – though in many cases uneven – impact on the global labour market and people's livelihoods. Under these circumstances on 4 December 2020 an online comparative law conference was organized by the University of Applied Sciences of Fulda in Germany and the Aristotle University of Thessaloniki in Greece, upon which this book is based. In particular, the conviction that mutual learning requires an exchange of national experiences inspired the online conference: "Social security in times of corona from a comparative law perspective: The case of migrant workers and other vulnerable groups (of workers)". The leading question was: Have national laws successfully addressed the problems caused by this extraordinary situation? From a comparative law perspective, this book answers the question and tries to explore both the existing and new special regulations introduced in the field of social security law in selected European countries.
Edition info
Title
Social security in times of corona
a legal comparison of selected European countries
© 2021
Collaborators
Authors
ISBN
978-960-648-344-8
Pages
ΧΙΙ + 199
Price
In stock
Content type
Categories
Read on Sakkoulas-Online.gr
Related editions

Ζητήματα κοινωνικής ασφάλισης και αστικής ευθύνης του κράτους σε ένα έργο αφιερωμένο στον Γ. Χ. Παναγιωτόπουλο

Συστηματική ανάπτυξη και ερμηνεία του δικαίου κοινωνικής ασφάλισης

Αναλύσεις και προτάσεις βελτίωσης γύρω από το θεσμικό πλαίσιο της κοινωνικής εργασίας και τον ρόλο του κοινωνικού λειτουργού

Στη νέα αυτή έκδοση λαμβάνονται υπόψη όλες οι σημαντικές μεταβολές που έχει υποστεί η Εργατική Νομοθεσία, όπως λ.χ. αυτές που αναφέρονται στην αναγγελία οικειοθελούς...

Το παρόν βιβλίο στοχεύει σε μια ηθικοπολιτική και κανονιστική πρόσληψη της κοινωνικής ασφάλειας ως υλικού και θεσμικού πυλώνα διανεμητικής δικαιοσύνης. Στο πρώτο μέρος...