C. Kern/F. Klinck/Σ. Τσαντίνης..., Relations between judge and parties in German and Greek civil trial, 2020
---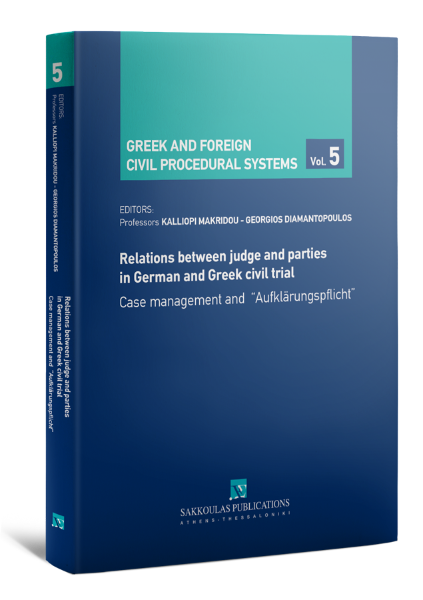 Essays of esteemed colleagues which compare German and Greek Procedural Law, particularly concerned with the «Relations Between Judge and Parties in the Civil Trial» especially under the focus of «Case management and "Aufklärungspflicht"»
Edition info
Title
Relations between judge and parties in German and Greek civil trial
Case management and "Aufklärungspflicht"
© 2020
Series editors
Authors
Series
ISBN
978-960-648-246-5
Pages
XI + 236
Price
In stock
Table of Contents
Series Editors' ForewOrd
opening of the conference (by Emeritus Prof. Constantin Calavros)
The Consequences of the Court's Failure to Provide Hints and Feedback (by Prof. Dr. Christoph Kern)
I. Introduction.
II. The Court's Duty.
1. Comparative Overview.
2. Procedural Culture.
3. From Right to Duty.
4. From Soft to Hard Prescription
III. Compensation.
1. General Remarks.
2. Within the Ongoing Proceedings.
3. On the Appellate Level.
4. On Review for Violation of the Right to Be Heard.
5. Outside the Actual Proceedings.
6. Liability for Damages.
IV. Sanctions.
1. General Remarks.
2. The Cost Sanction on the State.
3. Sanctions on the Judges.
V. Conclusion.
Clarification Duties (Aufklärungspflichten) of the Court - Basis and Limits (by Prof. Dr. Fabian Klinck)
I. A Core Issue and the German Code of Civil Procedure.
II. Underlying Aspects of Judicial Clarification Duties.
1. The Legislator's Point of View.
a). Social Peace.
b). Efficiency - Strengthening the First Instance and Abridging Appeals
2. Constitutional Aspects.
a). Right to Justice ("Justizgewähranspruch").
b). Right to a Legal Hearing.
c). Right to Procedural Equality of Arms ("Waffengleichheit").
d). Summary.
3. Internal System of Procedural Law.
a). Maxims.
b). Impartiality of the Judge.
4. Relationship Between these Aspects – First Conclusions.
III. Clarifying the Facts and Clarifying the Law – Some General Considerations.
1. Distinguishing Points of Fact from Points of Law.
2. Object of Clarification Duties: "The" Facts, "the" Law – or the Court's Opinion?
3. "Working Towards." – Scope of the Clarification Duty.
4. Reduced Clarification Duties Towards a Party Represented By a Lawyer?.
5. Clarification Duty Despite Indication by the Opposing Party?.
IV. Clarification Duties in Detail.
1. Factual Allegations.
a). Clarifying the Facts or the Parties' Factual Allegations?.
b). Clarifying Factual Allegations – and Suggesting New Allegations.
c). Disregarding Submitted Facts – Untruthful Assertions.
2. Hearing of Evidence.
a). Discussing the "Outcome of the Hearing of Evidence", § 279 par. 3
b). Encouraging (Further) Presentations of Proof.
c). Hearing of Evidence ex officio; Interrogation and Hearing of a Party
d). Evident Facts.
3. Petitions.
V. Closing Remarks.
Case Management in the Modern Civil Procedure –International trends and the Greek Model– (by Prof. Dr. Spyros Tsantinis)
Ι. Introductory remarks – Active "trial"/ "case" management: Terminology, Focus and Scope of the contribution
ΙΙ. What is and what do we expect from Case Management? – A first approach.
ΙΙΙ. Case management in the environment of the "struggle"- Some reflections on theoretical prerequisites
1. Judge's Duties and Parties interests in the civil procedure.
2. On orality of the trial as a prerequisite of case management.
ΙV. Case management in English (and US American) law.
1. Case management basics.
2. Orality and jury trial in the English legal tradition.
3. US-American law.
V. A brief comparative approach of the civilian style.
1. German Law.
2. Austrian law.
VI. Case management – in the ordinary proceedings – in Greek Procedural Law.
1. Pre-Trial Mediation – Settlement in litigation.
2. Progress of the proceedings – Especially ordinary proceedings.
3. Evaluation and Conclusion.
a) The decline of orality.
b) "Trial" and Evidence before and by professionals.
c) Conclusion: Digital case management – Case management in the digital era.
VII. Literature.
Judicial Duty for Guidance (art. 236 CCP): A Greek perspective on judicial activism (by Prof. Dr. Vassilios Hadjioannou)
I. General context
1. The role of the judge and the parties in Greek civil procedure: Αn introduction.
2. Fundamental principles: «The rules of the game».
a). Why observance of fundamental principles matters?.
b). Fundamental principles in more detail.
c). An interim conclusion.
II. The (in)active judge: A long-established cumbersome reality.
III. International trends: ALI/UNIDROIT Principles and ELI/UNIDROIT Rules.
1. History and aims of the Project.
2. Main features related with judicial duty for guidance.
a). Co-operative case management.
b). The role of the parties.
c). The role of the court.
d). ALI/UNIDROIT and ELI/UNIDROIT trends in Greek practice.
IV. The legislator's approach: Τhe "uninvolved" judge as a structural problem of Civil Justice
1. "Τhe lifeless course of Hellenic Justice": The impact of consecutive ECHR rulings
2. Τhe legislative considerations of 2011 amendment
a). The Explanatory Report of Law 3994/2011.
b). Remedy of vagueness as a motive.
c). Inherent problems addressed by the amendment.
(a). "significant disruption in rendition of Justice" ("justice delayed").
(b). Judgment based on "excessive formalism" ("justice denied").
(c). acceleration of the proceedings and the saving of judicial labor ("fiscal unsustainability")
V. Particular features of art. 236.
1. Art. 236 before and after the 2011 amendment.
2. Duty, obligation, or discretion?.
3. Distinction of judicial guidance from judicial order for personal appearance of the parties (245) and examination of the parties (415)
4. Rectification of vagueness: Co – responsibility of the court and the parties.
5. Reduced duty towards a party represented by a lawyer?.
6. Reduced duty in a default trial?.
VI. The scope οf judicial duty for guidance in more detail.
1. Facts presented by the parties.
a). General remarks.
b). Actions and exceptions.
c). Suggesting new allegations?.
2. Petitions.
3. Evidence and legal allegations?.
VII. Judicial power for guidance through dialogue.
1. Is orality a prerequisite for applying the rule?.
a). The legislator's view: Guidance through dialogue with the parties.
b) Orality "under persecution": The 2015 comprehensive reform of civil procedure
2. Revisiting the duty for guidance in the light of Law 4335/2015.
a). Scope of application in first Instance proceedings.
(a). Ordinary proceedings.
(b). Other proceedings.
b) Scope of application in appellate proceedings.
(a). Preliminary remarks.
(b). Guidance over incomplete or ambiguous ground(s) of appeal.
(c). Guidance over appeal attacking a default judgment.
(d). Guidance over appeal for violation of art. 236.
3. Scope of application in cassation and reopening of judgments proceedings.
VIII. Epilogue
The power of the court of interim measures to collect sua sponte evidence as a problem of delineation of the relation between court and parties (by Prof. Dr. Panayiotis Yiannopoulos)
The procedural role of judges in the private enforcement of Εuropean Competition Law (101, 102 TFEU) Dir 2014/104/EU. The Greek law regulation (Law 4529/2018) (by. Dr. Evangelia Asimakopoulou)
I. Introduction.
II. The disclosure of evidence.
1. Legislation basis.
2. Crucial points of interest.
3. The role of judges.
III. Quantification of damages.
IV. Conclusions.
A comparison between German and Greek law. Concluding remarks (by Professors Dr. Kalliopi Makridou and Dr. Georgios Diamantopoulos)
Content type
Categories
Read on Sakkoulas-Online.gr
Related editions

Πραγματείες Πολιτικής Δικονομίας
, #7
Πλήρης ανάλυση ζητημάτων γύρω από τις διασυνοριακές διαφορές εταιριών υπό το πρίσμα του Καν. 1215/2012 με έμφαση στη νομολογία του ΔΕΕ

Για πρώτη φορά στο ελληνικό δίκαιο συγκεντρωμένο το διαρκώς αυξανόμενης πρακτικής σπουδαιότητας δίκαιο της διεθνούς αναγκαστικής εκτελέσεως

Για πρώτη φορά στο ελληνικό δίκαιο συγκεντρωμένο το διαρκώς αυξανόμενης πρακτικής σπουδαιότητας δίκαιο της διεθνούς αναγκαστικής εκτελέσεως

Πλήρης παρουσίαση του νέου ευρωπαϊκού δικονομικού οικογενειακού δικαίου

Έργο αναφοράς για όσους ασχολούνται με τη διεθνή εμπορική διαιτησία-επικαιροποιημένο μετά τον Ν. 5016/2023