V. Tzortzi, The limits of mutual trust in the area of freedom, security and justice, 2019
---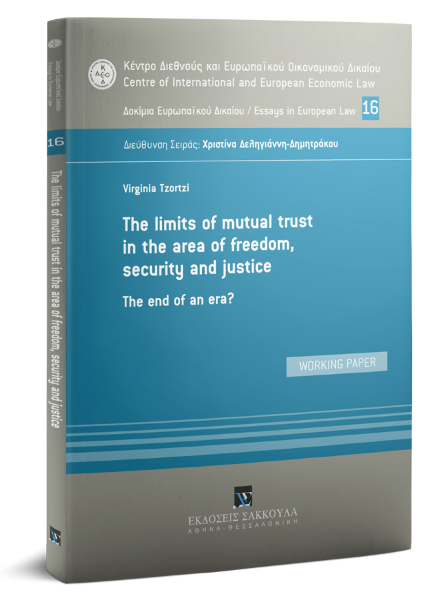 This contribution identifies the challenges and offers answers to the following questions: 1. when does mutual trust end?, 2. where is the balance to be found between blind mutual trust and mutual distrust?, 3. what are the questions arising from the recent case-law of the Court?, 4. hοw will the European project survive the mutual trust crisis?
This analysis argues that, while the recent case-law of the Court provides for circumstances that result in the non-application of mutual trust, its approach rightly remains that the rebuttal of this principle should only occur in exceptional circumstances, in order to preserve the existence of the Area of Freedom, Security and Justice. It finally concludes that, since the landscape has changed due to the crisis of values, providing rules for a new construction of the principle of mutual trust, thereby carving the exceptions to it, is needed more than ever.
Edition info
Title
The limits of mutual trust in the area of freedom, security and justice
The end of an era?
WORKING PAPER
© 2019
Series director
Author
Series
ISBN
978-960-648-028-7
Pages
X + 56
Price
In stock
Abstract
List of abbreviations
1. Introduction
2. Mutual trust in the area of freedom, security and justice
2.1 The function of mutual trust
2.2 Mutual trust as EU constitutional principle
2.3. Mutual trust under crisis
3. Limitations to the principle of mutual trust
3.1 Restrictions from EU secondary law
3.2 Restrictions from the Court's jurisprudence
3.2.1 Fundamental rights
3.2.2 Independence of judiciary
4. From automatic to flexible mutual trust: in search of a delicate balance
4.1 Questions in search of an answer
4.2 The need for a balance and the inherent risk of not achieving one
4.3 Perspectives
5. Final reflections
Selected bibliography
Content type
Categories
Read on Sakkoulas-Online.gr
Related editions

Crucial and modern issues in the field of labour law

Για πρώτη φορά στο ελληνικό δίκαιο συγκεντρωμένο το διαρκώς αυξανόμενης πρακτικής σπουδαιότητας δίκαιο της διεθνούς αναγκαστικής εκτελέσεως

Πλήρης παρουσίαση του νέου ευρωπαϊκού δικονομικού οικογενειακού δικαίου

Συλλογή μελετών γύρω από ζητήματα διεθνούς ευθύνης της Ευρωπαϊκής Ένωσης

Συλλογή μελετών γύρω από ζητήματα διεθνούς ευθύνης της Ευρωπαϊκής Ένωσης