Revue Hellénique de Droit International, vol. 2, 2014
---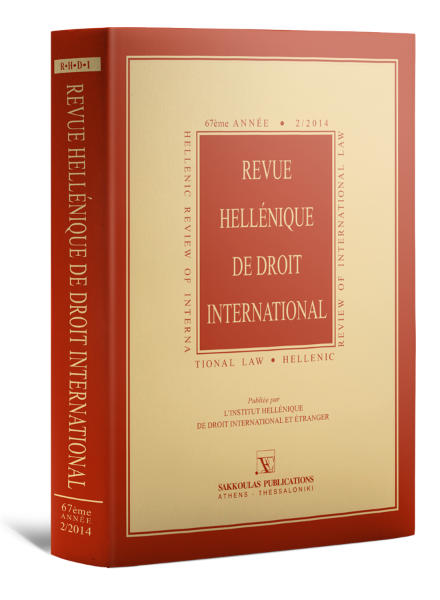 Having first appeared in 1948, the Revue hellénique de droit international is the brainchild of the Hellenic Institute of International & Foreign Law, roughly founded a decade earlier, and of Professor Petros Vallindas, Institute Director at that time. The Revue was conceived as a means for highlighting the significant contribution that Greek scholars had been continuously making to public and private international law in modern times, but also for promoting knowledge of international law norms and comparative law techniques to the ever-growing, world-wide Greek legal community.
Six decades later, having grown considerably over the years, the Revue continues to serve this purpose by providing the following to a host of readers throughout the world:
- Articles, studies and notes on private international law, public international law, international business law, foreign law and comparative law;
- Presentation and analysis of Greek legal developments which are of focal interest to the international audience;
- Publication of translated key Greek codes and statutes;
- Reports and commentaries on international and domestic court decisions applying private and public international law and European community law;
- Information on international documents signed, ratified or acceded to by the Hellenic Republic; and
- Book reviews.
The Revue is characterized by variety: it was – and still remains – the only Greek legal periodical exclusively in a language other than Greek. It hosts a selection of contributions written in English, French and German; contributing authors are acclaimed scholars and young professionals alike, reporting from different jurisdictions of a great number of countries from all continents. It is set up and edited by a team of dedicated junior researchers, with the assistance of a scientific committee under the overall supervision by Professor Spyridon Vrellis, current Institute Director.
Edition info
Title
Revue Hellénique de Droit International
67 ème ANNÉE, 2/2014
© 2014
Director
Volume
vol. 2
ISBN
003-532-561-3
Pages
VIII + 808
Price
In stock
table des matières
Première Partie - Articles
Kurt Siehr - International contracts, party autonomy and mandatory rules
Haris Tagaras - Réflexions comparatives sur le livre VII du nouveau Code Civil roumain, notamment sous l'angle du droit hellénique et du droit de l'U.E
Chryssapho Tsouca - Foreign law in the Greek private international law: positive solutions and future perspectives
Christina Deliyanni-Dimitrakou - Les transformations du droit du travail et la crise : les réponses du droit grec
Dionyssios M. Poulantzas & Nicholas M. Poulantzas - Le « know-how » et sa protection juridique dans le cadre de la protection de la propriété industrielle
Dossier spécial
Maintenance law in the Balkans
IIIrd Balkan Meeting
Koç University Law School
Istanbul, 30 September
Velina Todorova - Bulgarian substantive law and conflicts of law regulation regarding family maintenance
Alexandra Douga & Vassiliki Koumpli - On the regulation of maintenance obligations in Greece
Mirko Živković & Sanja Marjanović - Maintenance obligations in Serbian family law and private international law
Zeynep Derya Tarman & Işık Önay - The law of maintenance: a Turkish perspective
Deuxième Partie - Études
Apostolos Anthimos - Exequatur proceedings according to the Brussels I Regulation in Greece
Dimitrios Chotouras - L'encadrement juridique du changement climatique et des migrations écologiques : une question de responsabilité international ?
Francesco Seatzu - An institutional and normative analysis of Mercosur at a time of perplexity
Troisième Partie - Jurisprudence
Georgios Panopoulos - La jurisprudence grecque de droit international privé en 2013
Ioannis Prezas, Lisa Böhmer, Inès el Hayek, Henri Galpin-Decaux & Jaroslaw Mrowiec - Centre International pour le Règlement des Différends relatifs aux investissements (CIRDI). Chronique du contentieux 2013
Quatrième Partie - Varia
Özgün Çelebi - Fluctuations of the duty of mitigation in French law.
Eftichis Fitrakis - The principle of legality in Greek criminal law
Petros Siousiouras & Evi Baxevani - International law of the sea and piracy
Cinquième Partie - Notes bibliographiques
Heiki E.S. Mattila, Comparative Legal Linguistics. Language of Law, Latin and Modern Lingua Francas and Jurilinguistique comparée. Langue du droit, latin et langues modernes (Elina Moustaira)
Brigitte Feuillet-Liger, Kristina Orfali & Thérèse Callus (eds), The Female Body: A journey through Law, Culture and Medicine (Fereniki Panagopoulou-Koutnatzi)
Gonzalo Villalta Puig, Economic Relations between Australia and the European Union: Law and Policy (Christina Mardapitta & Georgios A. Andreou)
Ouvrages reçus
Content type
Categories
Read on Sakkoulas-Online.gr
Related editions

Σύγχρονη Νομοθεσία
, #39
Η παρούσα συλλογή βασικής νομοθεσίας ιδιωτικού διεθνούς δικαίου περιέχει πολλές από τις διατάξεις που αφορούν σε αυτό το επιστημονικό αντικείμενο. Κατ' αρχάς παρατίθενται οι...


Μια συστηματική παρουσίαση των βασικών αρχών και των κανόνων του Δικαίου των Ενόπλων Συγκρούσεων

Πλήρης ανάλυση και ερμηνευτικές προσεγγίσεις του κανονιστικού πλαισίου για τις διεθνείς υποχρεώσεις διατροφής

Ένα πλήρες εγχειρίδιο για όλα τα ζητήματα του διπλωματικού και προξενικού δικαίου