Revue Hellénique de Droit International, vol. 2, 2013
---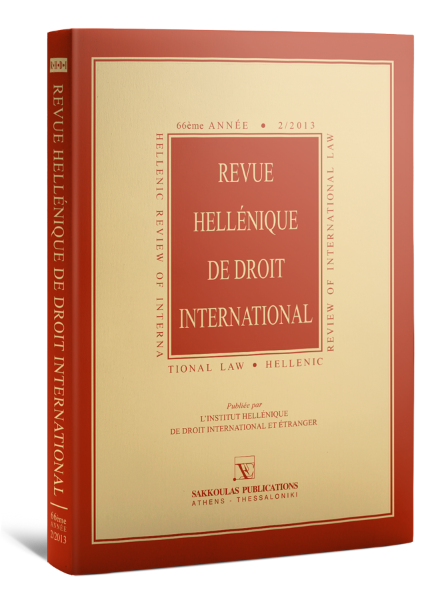 Having first appeared in 1948, the Revue hellénique de droit international is the brainchild of the Hellenic Institute of International & Foreign Law, roughly founded a decade earlier, and of Professor Petros Vallindas, Institute Director at that time. The Revue was conceived as a means for highlighting the significant contribution that Greek scholars had been continuously making to public and private international law in modern times, but also for promoting knowledge of international law norms and comparative law techniques to the ever-growing, world-wide Greek legal community.
Six decades later, having grown considerably over the years, the Revue continues to serve this purpose by providing the following to a host of readers throughout the world:
- Articles, studies and notes on private international law, public international law, international business law, foreign law and comparative law;
- Presentation and analysis of Greek legal developments which are of focal interest to the international audience;
- Publication of translated key Greek codes and statutes;
- Reports and commentaries on international and domestic court decisions applying private and public international law and European community law;
- Information on international documents signed, ratified or acceded to by the Hellenic Republic; and
- Book reviews.
The Revue is characterized by variety: it was – and still remains – the only Greek legal periodical exclusively in a language other than Greek. It hosts a selection of contributions written in English, French and German; contributing authors are acclaimed scholars and young professionals alike, reporting from different jurisdictions of a great number of countries from all continents. It is set up and edited by a team of dedicated junior researchers, with the assistance of a scientific committee under the overall supervision by Professor Spyridon Vrellis, current Institute Director.
Edition info
Title
Revue Hellénique de Droit International
66 ème ANNÉE, 2/2013
© 2013
Director
Volume
vol. 2
ISBN
003-532-561-1
Pages
VIII + 256
Price
In stock
table des matières
Première Partie - Articles
Dossier spécial
La Proposition de Règlement du Conseil du 16 mars 2011 relatif
à la compétence, la loi applicable, la reconnaissance et l'exécution
des décisions en matière de régimes matrimoniaux
Partie
Chryssa Tsouca - Le droit applicable aux régimes matrimoniaux à défaut de choix des époux
Nikolaos Davrados - Jurisdictional issues concerning matrimonial property regimes
Deuxième Partie - Études
Evangelos Vassilakakis - International jurisdiction in insurance matters under Regulation Brussels I
Anthi Pelleni - Obligation to assess the creditworthiness of the consumer and the responsibility of banks
Nicholas M. Poulantzas - The European Union and the Exclusive Economic Zone of Mediterranean States: Does a duty to cooperate exist?
Troisième Partie - Jurisprudence
Georgios Panopoulos - La jurisprudence grecque de droit international privé en 2012
Ioannis Prezas, Lisa Böhmer & Inès el Hayek - Centre International pour le Règlement des Différends relatifs aux investissements (CIRDI). Chronique du contentieux 2012
Quatrième Partie - Législation et documents
International agreements ratified by the Hellenic Republic in 2012
Cinquième Partie - Varia
Antoine Maniatis - Approche syncrétiste du droit para la sociologie du droit et l'anthropologie du droit
Fethullah Bayraktar - La question du drone en droit international
Jaques Bipele Kemfouedio - L'impact juridique du financement international des élections en Afrique : réflexions sur le cas de l'élection présidentielle ivoirienne de 2010
Pallavi Kishore - Le tribunal international de Tokyo pour les crimes de guerre commis sur des femmes : jugement de l'esclavage sexuel organisé par l'armée japonaise
Haroune Ould Ahmed - Les réserves à caractère religieux
Stefanos Vlachopoulos - The translation of legal texts: To what extent can functionality be creative?
Sixième Partie - Notes bibliographiques
Kalliopi Makridou & Georgios Diamantopoulos (eds), Issues of Estoppel and Res Judicata in Anglo-American and Greek Law (Tonia Korka)
Ingrid Rossi, Legal Status of Non-governmental Organizations in International Law (Tonia Korka)
Ouvrages reçus
Content type
Categories
Read on Sakkoulas-Online.gr
Related editions

Σύγχρονη Νομοθεσία
, #39
Η παρούσα συλλογή βασικής νομοθεσίας ιδιωτικού διεθνούς δικαίου περιέχει πολλές από τις διατάξεις που αφορούν σε αυτό το επιστημονικό αντικείμενο. Κατ' αρχάς παρατίθενται οι...


Μια συστηματική παρουσίαση των βασικών αρχών και των κανόνων του Δικαίου των Ενόπλων Συγκρούσεων

Πλήρης ανάλυση και ερμηνευτικές προσεγγίσεις του κανονιστικού πλαισίου για τις διεθνείς υποχρεώσεις διατροφής

Ένα πλήρες εγχειρίδιο για όλα τα ζητήματα του διπλωματικού και προξενικού δικαίου