I. Sarmas, The Fair Balance, 2014
---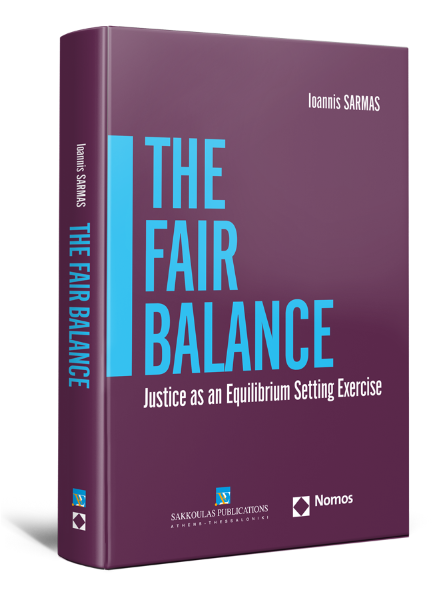 This book presents the means and the process by which fair balance solutions are shaped. Readers will find in it no recommendations to policy makers on social arrangements to be established, or proposals for solutions to social conflicts. Normative theories of justice, such as egalitarianism, utilitarianism or contractarianism, will be addressed, but not for promoting the ideas of justice which are advocated by them. They will be treated as material to be analysed for a better understanding of justice. Justice in this book is regarded as an observable phenomenon consisting of the satisfaction provided to individuals involved in a social interaction when they are convinced that their interests have received the best possible treatment, having regard to the treatment of the others' interests. This conviction can be effective when it actually occurs, or hypothetical, when the individual in a position to judge considers that the treatment received by the interests in interaction may be regarded as being the best possible. It is about justice conceived in this way that the author intends, in this book, to procure a study that is simultaneously descriptive and operational: descriptive in the sense of covering the whole phenomenon and built on accurate and verifiable knowledge; and operational, in the sense of establishing the laws that govern the phenomenon, thus providing a sound basis for predicting the circumstances that may generate it.
Edition info
Title
The Fair Balance
JUSTICE AS AN EQUILIBRIUM SETTING EXERCISE
© 2014
Author
ISBN
978-960-568-067-1
Pages
315
Price
In stock
GENERAL INTRODUCTION
P A R T
Justice as Equilibrium throughout History
INTRODUCTION
1 Emergence of the Requirement of Justice
– Primitive Societies: Keeping the Balance
– Egypt of Pharaoh: Submission to a Cosmic Equilibrium
– Mesopotamia: Cooperative Behaviour
to Maintain Prosperity's Order
– Indo-European Societies: Searching
for the Common Denominator.
– The Americas: Arbitrating between Present and Future.
Justice's Major Platforms.
– The Hebraic Law: Social Equilibrium by Mutual Honesty.
– The Athenian Democracy: Establishing Political Equality.
– The Roman Republic: The Calculus of Political Concessions.
– Islam: The Divine and the Practical Equilibriums.
– China and India: Quest for Universal Harmony.
Justice within Human Rights.
– Christianity and the New Requirements of Justice.
– Dynamic versus Immutable Equilibrium.
– The Struggles against Inequalities.
– Confirmation of the Democratic Solution.
– The Era of Human Rights.
CONCLUDING REMARKS
The Indicator of Justice
CO N T EN T S
PART I
Case-Studies
on Justice and Equilibriums
INTRODUCTION
4 Judges' Balancing Exercise
– Selecting what Matters
– Weighing the Relevant Elements
– No Less, no More
– Integrating within the Global Order
– No Better Solution Is Possible
5 The Calculus of Social Harmonization
– Ethical Standards to Evaluate Social Cases
– Reciprocal Empathy to Make Coordination
of Behaviours Possible
– Using Practical Equality to Resolve Issues Arising
from Cooperation
– Sublimating Individual Interests
into Defendable Social Values
– Applying Generalization Tests to Find
the Most Acceptable Solution
6 Equilibrating the Forces of Attraction and Repulsion
– Reciprocity: How it Works among Primates
– Regulation: How Animals Use Social Roles,
Priority and Property Rights
– Cooperation: How Life Uses It to Face Competition
– Order: How It Emerges Spontaneously
– Best Stratedy Selection:
How Equilibrium Appears as a Logical Requirement
CONCLUDING REMARKS
The Stabiliser of Interactions
CO N T EN T S
PART I I
The Shaping
of Fair Balance Solutions
INTRODUCTION
7 Principles of Justice
and the Reasons for their Mixing
– Theories of Justice Compatible with a Pluralistic Society
– Equality, Moral Hazard and the Enslavement of the Talented
– Maximizing Utility, Lack of Information and Uncertainty.
– The Social Contract Theories, Free Riders and Externalities.
– Mixing the Principles of Justice
8 Metrics and Dialectics for a Reflective Equilibrium
– The Decision as Adjustment
– Game Theory's Equilibriums
– Emergence of Generalised Reciprocity
– Metrics for Trade-Off Exercises
– Dialectics of Conciliation
9 Social Institutions as Equilibrium Setting Tools.
– Family: Reconciling Altruism with Self-Interest
– The State: Neutralizing Arbitrary Forces
– Accountability: Supporting the Network of Reciprocities
– Free Market: Maximizing Economic Efficiency
– Democracy: Consenting to Burdens and Benefits
CONCLUDING REMARKS
The Invariable Structure
Content type
Categories
Read on Sakkoulas-Online.gr
Related editions

Συστηματική παρουσίαση και ενημέρωση για όλα τα ζητήματα γύρω από τα Δικαιώματα του Ανθρώπου

De La Quadruple exécution capitale de Béthune (1909) à l'explosion pornographique des années '70 -Antonis S. Kechris, docteur en droit de l'Université Paris II



Το βιβλίο «Σύγχρονα Θέματα του Δικαίου Απαγόρευσης των Διακρίσεων και η Σύμβαση του ΟΗΕ για τα Δικαιώματα των Ατόμων με Αναπηρία» είναι ένα συλλογικό έργο που εμπεριέχει τις...