Γ. Κουμάντος/Ε. Σταματούδη, Greek Copyright Law, 2014
---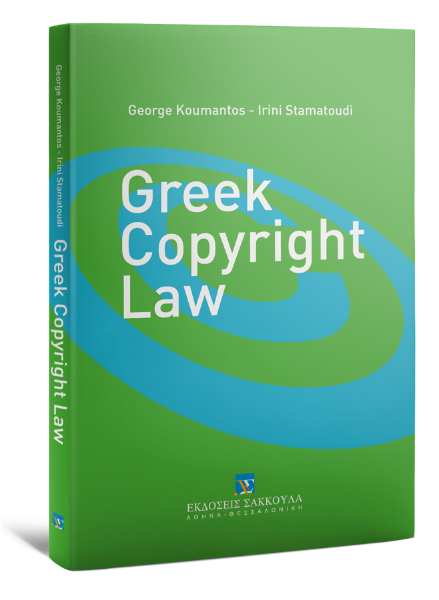 This book is a reprint of the chapter on Greece from P. E. Geller (ed.) International Copyright Law and Practice, Matthew Bender, US, 2013 edition. It is an authoritative commentary on Greek copyright law by two leading experts in the field. It was written up to 2000 by George Koumantos (†2007) and from 2001 onwards by Irini Stamatoudi. It offers a useful insight into both the letter and spirit of Greek copyright law and follows the developments in the area. Its structure and style are friendly to the readers even those who are not acquainted with Greek law. It can prove a valuable tool for academics, researchers, practitioners and policymakers in copyright law and comparative law.
"This is the authorative commentary on Greek copyright law. It is written by two leading experts in the field and it provides an in-depth insight in the letter and spirit of Greek copyright law and practice. All those interested in Greek copyright will find it an invaluable tool!"
Prof Dr Paul L.C. Torremans, School of Law, University of Nottingham, United Kingdom
Edition info
Title
Greek Copyright Law
© 2014
Authors
ISBN
978-960-568-075-6
Pages
208
Price
In stock
Table of Courts and Reviews[1],[2]
§ 1 Introduction
1. Current Law; Historical Background.
2. Copyright and Related Laws; Revisions.
1. Standards for Protection.
a) Formal Requirements.
b) Substantive Criteria.
2. Categories or Types of Works.
3. Derivative Works, New Versions, and Compilations
a) Derivative Works and New Versions.
b) Compilations; Databases.
4. Borderline Cases; Alternative Regimes.
a) Titles.
b) Characters.
c) Works of Applied Art; Design Protection.
d) Computer Software.
e) Government Works.
TA B L E O F C O U RT S A N D R V I E WS
§ 3 Duration
1. General Rules.
a) Joint, Collective, and Audiovisual Works.
b) Anonymous and Pseudonymous Works.
c) Posthumous Public-Domain Works.
2. Special Terms.
a) Performances, Recordings, Broadcasts, Editions
b) Prior and Revived Rights; Reliance Issues.
3. Foreign Works.
a) In General.
b) Affected by Bilateral Agreements.
c) Affected by Berne and the U.C.C.
1. Initial Ownership.
a) Joint, Audiovisual, and Composite Works.
b) Works Made for Hire; Collective Works.
2. Transfers: General Rules; Conflicts of Laws.
a) Interests Subject to Transfer.
b) Formal Requisites for Transfers.
c) Contractual and Related Presumptions.
d) Recordation; Priority of Transfers.
3. Limitations of Transfer; Specific Cases.
a) General Limitations.
i) Retransfer; Remuneration; Termination.
Future Works.
b) Rules for Specific Types of Contracts.
i) Publication.
ii) Audiovisual Production.
iii) Public Performances.
iv) Broadcasting.
TA B L E O F C O U RT S A N D R E V I WS
v) Photographs.
c) Transfers by Law: Expropriation; Attachment
d) Resale Right: Droit de Suite.
1. Special Copyright Jurisdiction.
2. Special Agencies: Royalty Rates.
3. Notice; Other Formalities.
4. First Publication.
1. Requirements for Eligibility.
2. Multilateral Conventions.
3. Bilateral Agreements.
1. Particular Rights.
a) Disclosure and Dissemination.
b) Attribution of Authorship.
c) Integrity of the Work.
d) Access to the Work.
e) Withdrawal of the Work.
2. Limitations.
3. Duration.
4. Waiver and Transfer.
1. General Content of Rights.
a) Infringement Analysis.
b) Specific Economic Rights.
i) Fixation and Reproduction.
TA B L E O F C O U RT S A N D R V I E WS
ii) Distribution; Importation;
Rental and Lending.
iii) Adaptation and Translation.
iv) Performance and Communication.
v) Broadcasts and Cable Transmission.
c) Party Liability.
i) General Rules.
ii) Online Intermediaries.
iii) Technological Safeguards.
2. Exceptions and Limitations.
Quotation.
State Uses.
c) Exempted Uses of Specific Categories of Works
i) Media Uses of Newsworthy Materials.
of Visual Arts.
iii) Uses of Computer Programs and Databases
d) Remuneration for Private Copying.
3. Enforcement Proceedings.
a) Provisional Non-Judicial Measures.
b) General Procedural and Evidentiary Rules.
Other Time-Based Defenses.
4. Civil and Criminal Remedies.
a) Civil Remedies.
i) Preliminary Relief; Discovery.
ii) Final Relief.
b) Criminal Remedies.
Customs.
TA B L E O F C O U RT S A N D R E V I WS
§ 9 Miscellaneous
1. Overlapping and Neighboring Rights.
a) Neighboring Rights.
i) Performances.
ii) Sound and Video Recordings.
iii) Broadcasts.
iv) Published Editions.
b) Other Related Rights.
i) Rights in Database Contents.
ii) Topographies of Integrated Circuits.
2. Collecting Societies; Other Organizations.
a) Conditions of Operation.
b) Appropriate Royalty Rates.
c) Specific Societies and Organizations.
Annex:
Law 2121/1993 Copyright, Related Rights and Cultural
Matters (Greek Official Journal FEK A΄ 25/1993).
---
[1]. Irini Stamatoudi has contributed this chapter since 2001.
[2]. George Koumantos contributed this chapter through 2000.
Content type
Categories
Read on Sakkoulas-Online.gr
Related editions

Εκτενής παρουσίαση ειδικών ζητημάτων σε σχέση με τις αναδυόμενες τεχνολογίες της οικονομίας των δεδομένων

Ευσύνοπτη και συστηματική ανάλυση των κρισιμότερων θεμάτων του «Δικαίου της Πληροφορικής»

Μια συμβολή στη δικαιοπολιτική προσέγγιση των περιορισμών με έμφαση στις ψηφιακές χρήσεις για διδακτικούς σκοπούς

Δημοσιεύματα ΕΠολΔ
, #27
Παρουσίαση των δικονομικών διατάξεων στο πεδίο της πνευματικής ιδιοκτησίας με εύστοχες αναλύσεις σε πρακτικά ζητήματα