A. Giokaris/G. Kyriakopoulos/A. Mpredimas..., Protecting the Environment from Human Intervention, 2018
---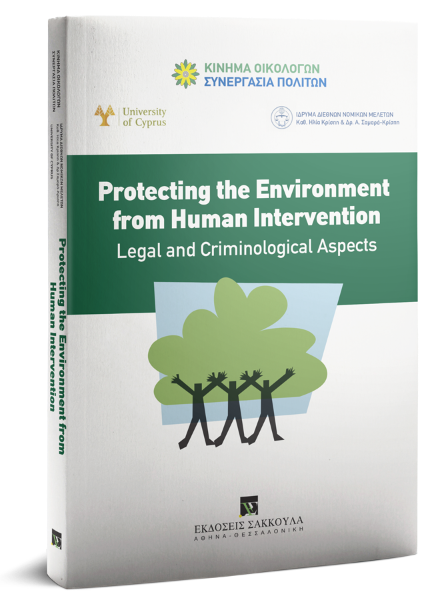 Essays regarding protection of the environment
Edition info
Title
Protecting the Environment from Human Intervention
Legal and Criminological Aspects
Κίνημα Οικολόγων - Συνεργασία Πολιτών | Πανεπιστήμιο Κύπρου | ΙΔΡΥΜΑ ΔΙΕΘΝΩΝ ΝΟΜΙΚΩΝ ΜΕΛΕΤΩΝ Καθ. Ηλία Κρίσπη & Δρ. Α. Σαμαρά-Κρίσπη
© 2018
Foreword
Authors
ISBN
978-960-568-903-2
Pages
VIII + 250
Price
In stock
PART A
WELCOME ADDRESSES
Mr. Nicos Pavlides, First Vice-President of the Cyprus Greens - Citizens Cooperation.
Mrs. Ioanna Panagiotou, Commissioner for the Environment, Cyprus.
Prof. Constantinos Christofides, Rector, UCY.
Dr. Anastasia Krispi-Samara, President of Foundation for International Legal Studies of Professor Elias Krispis.
PART B
Angelos Yokaris
Freedom of Navigation and "protected" maritime areas in the IMO.
George D. Kyriakopoulos
Legal Aspects of the ICAO's Recent Work on Environmental Protection.
Αντώνης Μπρεδήμας
Αστική και Ποινική Ευθύνη για ρύπανση της θάλασσας από πλοία σε κίνδυνο που αναζητούν καταφύγιο
(Civil and Penal Liability for Pollution of the Sea from ships in distress, searching place of assistance).
Αντώνης Μπρεδήμας
Ο έλεγχος της εκπομπής αερίων θερμοκηπίου από τα πλοία
(The Control of the Greenhouse Emissions from ships).
Haris Karabarbounis
Mega Conferences: an Important Actor in Environmental Diplomacy.
Philippos Nikolopoulos
The Greek environmental law, systems theory and the social parameters.
Vassiliki K. Vretou
The Contemporary Trends of National Constitutions on the Environment and Future Generations.
PART
Dr. Andreas Kapardis
Why Cyprus needs Green and Cultural Criminology.
Melina Pyrgou
Prosecuting Environmental Law Offenders in Cyprus: Principles and Case Law.
Dr. Charalambos Theopemptou
The Case for 5 crimes against the Environment.
APPENDIX
ΠΡΟΣΦΕΡΘΕΙΣΕΣ ΕΡΓΑΣΙΕΣ
ΓΙΑ ΤΗΝ ΚΛΙΜΑΤΙΚΗ ΑΛΛΑΓΗ
Augusta-Maria Kaloudis
The Control of Climate Change From the Kyoto Protocol (1997) to the Paris Agreement (2015).
Μαρία-Κωνσταντίνα Λιλή-Κόκκορη
Έλεγχος Κλιματικής Αλλαγής: Από το Πρωτόκολλο του Κιότο, στη Συμφωνία του Παρισιού
The Control of Climate Change. From the Kyoto Protocol to the Paris.
Content type
Categories
Read on Sakkoulas-Online.gr
Related editions

Μια εκτενής παρουσίαση του δικαίου της Βιώσιμης Ανάπτυξης και της εξέλιξής του

Η νομική προστασία του περιβάλλοντος με έμφαση στις εξελίξεις σε νομοθεσία και νομολογία

Παρουσίαση και προτάσεις για την εγκατάσταση και λειτουργία πλωτών αιολικών πάρκων στην Ελλάδα

Η διαχείριση και η προστασία της βιοποικιλότητας στο Άγιο Όρος στο πλαίσιο του δικτύου Natura 2000

Στο έργο αυτό παρουσιάζεται μια νέα διεπιστημονική προσέγγιση για την αντιμετώπιση των πρωτοφανών περιβαλλοντικών προβλημάτων. Οι σύγχρονες καθολικές προκλήσεις, όπως η...