D. Charalampis/N. Chronis/K. Lorenz..., jus, ars, philosophia et historia Festschrift für Johannes Strangas zum 70. Geburtstag, 2017
---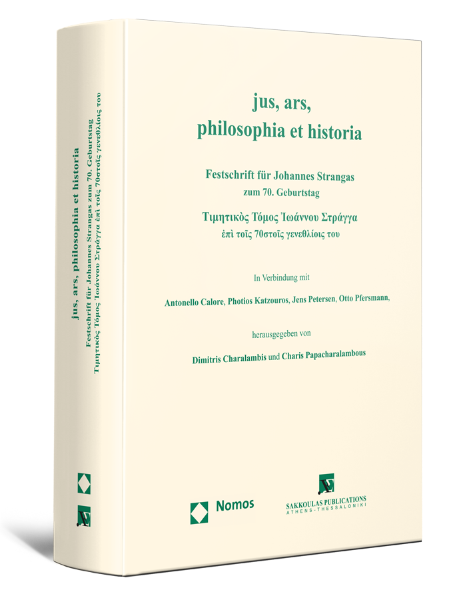 Ο διανοητής Ιωάννης Στράγγας, στον οποίο είναι αφιερωμένος ο παρών Τιμητικός Τόμος, αφοσιώθησε σε τρία πεδία του επιστητού: στη δικαιογνωσία, στη φιλοσοφία και στη μουσική σύνθεση.
Der Denker, dem die vorliegende Festschrift gewidmet ist, hat sich drei Wissensbereichen hingegeben: der Rechtskunde, der Philosophie und der Komposition.
Edition info
Title
jus, ars, philosophia et historia Festschrift für Johannes Strangas zum 70. Geburtstag
in Verbindung mit Antonello Calore, Photios Katzouros, Jens Petersen, Otto Pfersmann
© 2017
Editors
Authors
ISBN
978-960-568-632-1
Pages
ΧΧΧΙ + 899
Price
In stock
INHALTSVERZEICHNIS / ΠΙΝΑΞ ΠΕΡΙΕΧΟΜΕΝΩΝ
Seite/Σελίς
ΠΡΟΛΟΓΟΣ
VORWORT
INHALTSVERZEICHNIS / ΠΙΝΑΞ ΠΕΡΙΕΧΟΜΕΝΩΝ
I. philosophia practica generatim
Kuno Lorenz
Wille und Vernunft
Fragen zum Zusammenhang von Lebensführung (way of life)
und Weltansicht (world view)
Francesco D'Agostino
Umanesimo: Verità dell'uomo e coerenza della vita
Vittorio Hösle
Ethik und Wirtschaftswissenschaft, oder:
Wieviel Egoismus braucht der moderne Kapitalismus?
Machiavellis, Mandevilles und Malthus' neue Erkenntnis
und ihre Herausforderung
Georges Dellaportas
Neigung und Instinkt: Versuch einer Abgrenzung.
Thomas A.Bauer
Signaturen der Mediengesellschaft
Medialität als das ästhetische Moment im Verhältnis
von Kommunikation und Gesellschaft
II. philosophia et historia
Νικόλαος Χρόνης
Ἡ ἱστορία τῆς φιλοσοφίας ὡς ἑρμηνευτική
καί μεταερμηνευτική ἐπιστήμη
Evanghélos Moutsopoulos
L'intentionnalité par rapport à l'histoire
Christos Terezis / Fyllio Titoni
Politics and Ontology in Neoplatonic Proclus:
Toward an Agreement
Michael Mantzanas
Christentum und Neuplatonismus
in Michael Psellos' Theorie über das Böse
Charis Papacharalambous
Heideggers Geviert und Dugins Eurasien
In Richtung auf einen neuen "Nomos der Erde"?
III. philosophia juris
Jens Petersen
"Einen für Europa mitzählenden Geist"
Jean-Marc Trigeaud
Métaboles
Sur les morts et renaissances de la justice et du droit
Antonio-Enrique Pérez Luño
Natural law theory in Spain and Portugal
Nikolitsa Georgopoulou
Autonome Struktur der Freiheit und natürliches Recht
Θεμιστοκλῆς Σοφός
Ἡ «Πράξη ἐκ καθήκοντος» καί τό Δίκαιο
Günther Jakobs
Negative Pflichten
IV. quaestiones speciales philosophiae juris
François Terré
Un retour à Kant, sur la personne, l ' être et la vie
Frank Saliger
Widerstandsrecht – ein Menschenrecht
Überlegungen zu Recht und Moral
Raffaele De Giorgi
Rischio come vincolo del futuro nei sistemi complessi
Europa e il Mediterraneo. Crisi e chance
Apostolos Chelidonis
Über die sogenannte Kausalität der Unterlassung
Gedanken anlässlich des Kausalitätsbegriffs
bei Schopenhauer und Aristoteles
Urs Kindhäuser
Zu Bierlings Theorie der Erlaubnisnormen
Vassilis Voutsakis
L' application du droit : faculté de juger et arguments
V. jus et logica sive methodus
Ingeborg Puppe
Logische Untersuchungen zur strafrechtlichen Irrtumslehre
Vasileios Aravantinos
Considerations about the so-called Legal Logic
and its Relationship to Legal Certainty
Petros Stefaneas
On Legal Semantic Theories
Δημήτριος.Καραμαγκιώλης
Ἡ λειτουργικότητα τῶν ἀορίστων νομικῶν ἐννοιῶν
ὡς μηθοδολογικό ἐργαλεῖο καί ὡς ὅριο τῆς ἑρμηνείας τους
Antonis Chanos
Gesetzesübersteigende Rechtsfortbildung
Zur Abgrenzung der Rechtsfindung extra legem
von der Rechtsfindung contra legem
Athanasios Gromitsaris
Europäische Integration durch Verfahren?
Zur Entstehung eines verwaltungsverfahrensrechtlichen
Methodenverbunds
VI. jus et res publica
Dimitris Charalambis
Das Minsky-Moment der Demokratie
Das Irrationale als Systemrationalität der Ungleichheit
Dimitrios Pyrgakis
Le problème de la dissolution des partis politiques
à la lumière de la théorie générale du droit et de l'État
Vassiliki Christou
Redefreiheit und Notwendigkeitskontrolle
Francesco Belvisi
Cittadinanza, integrazione sociale, inclusione
Denis Moschopoulos
La nature juridique des gouvernements de l'État grec pendant
l'occupation militaire 1941-1944 et la notion de souveraineté
Constantinos Kombos
A Constitutional Shadow over Europe: the Economic Crisis
VII. historia philosophiae juris et rei publicae
Nikolaos Intzesiloglou
The fundamental Aristotelian principles concerning law and society
Following the Aristotelian way of the mean and autonomy
Ioannis Sarmas
L'exhortation de Jésus de Nazareth à ses disciples
de servir et le modèle démocratique
Michael Tsapogas
"Les spéculations juridico-métaphysiques de l'école allemande"
N. N. Saripolos und die Rezeption des deutschen
staatsrechtlichen Positivismus in Griechenland
Yannis Prélorentzos
La théorie de la justice de Vladimir Jankélévitch
Francesco Riccobono
La filosofia del diritto di Vittorio Frosini dalla morfologia
della prassi all'informatica giuridica
VIII. historia juris
Photios Katzouros
Les fondements juridiques du Chant A de l'Iliade
Kalliopi K. Papakonstantinou
Die Wirkungen der Rechtshängigkeit im attischen Recht
Michel Humbert
Une figure mal connue de la science pontificale :
la condition du « statuliber » selon la loi des XII Tables
Antonello Calore
Alle origini della cittadinanza Romana:
un esempio di flessibilità politico-giuridica
Ioannis E. Tzamtzis
Renovata plebs dans la deuxième Suasoria de [Pseudo -] Salluste.
Giovanni Turelli
Appunti sulla struttura di Alfenus 6 dig. D.5.1.76
Christian Baldus
Quae a philosopho desideretur oder
Die Digestenexegese als Kunst der Vorfrage
IX. jus, philosophia et artes
Christos Dabakakis
L'« Électre » de Sophocle – L'« Électre »
de Hugo von Hofmannsthal et de Richard Strauss
Une comparaison du point de vue juridique
Χαράλαμπος Ἀσβέστης
Οἱ σχέσεις δικαίου καί ζωγραφικῆς
στή δυτική ζωγραφική τοῦ 19ου αἰώνα
Charalampos Palaiothodoros
Spinoza et la musique
Detlef Bensmann
Der Komponist Johannes Strangas
Βικτωρία Βασιλοπούλου
Οἱ Τέχνες στήν Εκπαιδευση καί στή δυναμική τοῦ Σχολείου
X. opus honorati
Nikolaos Siavelis
Schriftenverzeichnis des Geehrten / Ἐργογραφία τοῦ τιμωμένου
Content type
Categories
Read on Sakkoulas-Online.gr
Related editions

Μία πρωτότυπη προσέγγιση της Ελληνικής Επανάστασης από τη σκοπιά της Ιστορίας του Δικαίου

Επιλεγμένες συμβολές με διεπιστημονική προσέγγιση πάνω σε κρίσιμα δικαιοφιλοσοφικά προβλήματα

Το πολιτειακό πλέγμα της Καρχηδόνας, οι ιδιαιτερότητές του και η λειτουργικότητά του


Συλλογή 105 μελετών αφιερωμένων στη μνήμη του Γεωργίου Χ. Παναγιωτόπουλου