C. Chatzikonstantinou, Power exchanges and the Greek wholesale electricity market, 2019
---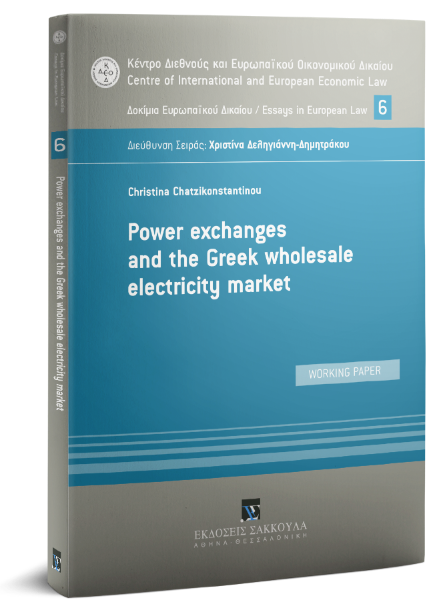 The focus of the working paper is to provide, from the scope of energy law, a review of the basic functioning of power exchanges, both as marketplaces and as institutions in the context of the European Integral Energy market.
Edition info
Title
Power exchanges and the Greek wholesale electricity market
Working Paper
© 2019
Series director
Author
Series
ISBN
978-960-568-941-4
Pages
VIII + 72
Price
In stock
List of abbreviations
Introduction
PART ONE
Power exchanges in Europe and their fundamental
role as electricity wholesale marketplaces
A. The liberalisation of the electricity sector in Europe and the emergence of power exchanges
1. Energy as a commodity
2. The liberalisation process
a) Energy policy in the EU
b) The EU regulatory framework for the electricity market
3. The emergence of power exchanges
B. Power exchanges as marketplaces for electricity trading
1. The wholesale electricity market
a) Essential elements in the wholesale electricity market
b) Forms of electricity trading at a wholesale level
2. Power exchanges: Electricity trading platforms
a) Power pools: The precursors of power exchanges
b) Definition and functions of power exchanges
c) The price formation mechanism
d) The correlation between power exchanges and Transmission System Operators
e) The benefits from trading in a power exchange
PART ΤWO
The institutional role of power exchanges towards
an integrated wholesale electricity market
and the Greek perspective
A. Power exchanges in the context of the European integrated energy market - An institutional approach through market coupling
1. Energy market integration within the EU
2. The wholesale electricity market integration through market coupling
3. The regulatory regime under Regulation (EU) 2015/1222
a) Basic regulations on market coupling
b) The role of power exchanges in the market coupling regulatory regime and the impact of Regulation (EU) 2015/1222 on their activities
B. The Greek wholesale electricity market and its recent developments
1. The basic regulatory framework
2. Wholesale market structure and electricity trading before the enactment of Law 4425/2016
3. Law 4425/2016: the newborn wholesale electricity market
4. Law 4512/2018: the establishment of the Greek power exchange
Concluding remarks
References
Appendix
Content type
Categories
Read on Sakkoulas-Online.gr
Related editions


Το παρόν έργο αποτελεί απαραίτητο και χρηστικό εργαλείο για κάθε αναγνώστη που επιθυμεί να αποκτήσει μια πλήρη γνώση γύρω από τα ζητήματα που ανέκυψαν από την πρόσφατη...

Παρουσίαση και προτάσεις για την εγκατάσταση και λειτουργία πλωτών αιολικών πάρκων στην Ελλάδα